This curriculum is designed for the whole family to enjoy! *And you don't need to speak Spanish in order to have fun learning the language with your child. The motto of the curriculum is
RELAX, ENJOY, ASPIRE, LEARN SPANISH
and
REAL Homeschool Spanish
strives to make this a reality. Here are some examples:

1. Spanish is learned through conversation and all new vocabulary is first taught through speaking it and getting replies from your children (audio files are included so that the teacher/students can hear the language spoken).
2. Learning the language is incorporated into the day. Material that is learned is relevant in a homeschooling environment and can be used not only in "class" but throughout the day.
3. With the ideas section and games from the activity book your student will have fun learning the vocabulary in a variety of exciting ways.
4. The curriculum comes with a planning guide and daily planning chart so that you can be organized in presenting the material to your family and fitting in as part of your family's educational journey.
5. Emphasis is placed on a relaxed learning environment. Here's more from their website on why:
"We believe that a relaxed environment encourages positive language learning. Too much grammar and too much emphasis on perfectly correct speech hinders the enjoyment and progress of learning. Slow and steady practice promotes correct speech over time. For these reasons, we have limited our grammar sections to a minimum and stress communication and enjoyment first."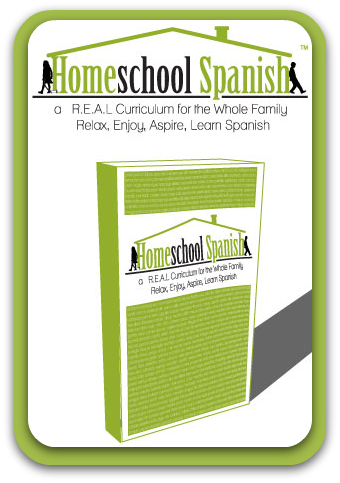 I reviewed (the download-able version) of REAL Homeschool Spanish. It included the book (featuring 10 units, 55 vocab clusters and 15 idea sections of ways to further your learning), a 179 page activity book featuring all kids of activities from word searches, to crosswords, to word scrambles and lots in between, all the audio files you need, an answer guide and the daily curriculum guide/planner.
There are number of different options for buying
REAL Homeschool Spanish
from instant downloads (with or without the daily planner) to hard copies with books and CDs. Check out their
purchase page
to find out more about products and prices. Currently the download-able versions sell for $49.95 and the hard copies sell for $89.95. There are also many
samples
available on their website- check them out!
To see what my fellow Crew Mates had to say about Real Homeschool Spanish, visit the Homeschool Crew Blog to read more.

**Disclosure: My review and opinion written in this post is entirely my own. This product was provided to me for free in exchange for my review as a member of the 2011-2012 The Old Schoolhouse Magazine Homeschool Crew.