Golden Prairie Press
is an online business started by Amy Puetz. Her first book was a historical costume book and then later she wrote other historical books with a Christian worldview. Amy Puez, the author, enjoys telling stories of people who impacted their generation.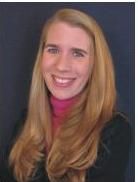 Amy Puetz is a homeschool graduate who loves history. Here's a little background written by Amy herself: "When I was a teenager if anyone had told me that one day I would write books I would have laughed in their face. Me a writer? You've got to be kidding! But sometime God opens up a door that we would never have imagined going through on our own. That's what happened to me in writing. My ambition was to be an archeologist but during my high school years I began experiencing unbearable fatigue and pain. As I approached graduation I realized that I needed to rethink my plans for the future. The Lord led me to take a correspondence course to become a computer graphic designer. After completing the course I was hit with a most sensational idea--write a historical costume book! This book combined several of my passions--history, sewing, designing, and photography. Since then I've built up a business selling historical items and writing historical books."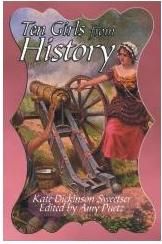 We were able to review
Ten girls From History
e-book
and I have to say that my 12 year old, history loving, love-to-read daughter absolutely adored this book! This book was written in a way that is very engaging for the reader and captivates the audience while going through the accounts of ten, brave girls throughout history. When previewing this book for my daughter, I immediately noticed that I'd only heard of a few of these girls or remembered their stories. That fact alone made me very aware that I didn't love history when I was in school. My own curiosity was peaked so I read this e-book as well as my daughter. We were both captivated by the stories, the way it was written kept us coming back for more.
See if you recognize any of these girls from history:
Cofachiqui
Madeleine De Vercheres
Dorothy Quincy
Molly Pitcher
Elizabeth Van Lew
Ida Lewis
Clara Barton
Virginia Reed
Louisa May Alcott
Clara Morris
For any girl who loves history, I highly recommend this book. I also recommend it for people like me...I
didn't
enjoy history in school, therefore I'm curious about the things I missed out on. This was an intriguing (and informative) read!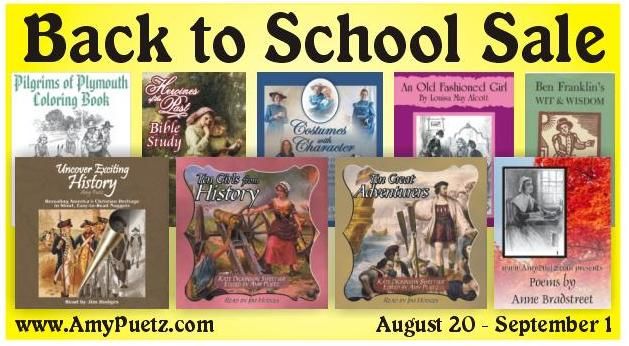 If any (or ALL!) of these books look interesting to you, you can still get in on the back-to-school sale. Be sure to go over to
Golden Prairie Press
by tomorrow (9/1/12) and take advantage of the sale prices.
**Disclosure: My review and opinion written in this post is entirely my own. This product was provided to me for free in exchange for my review as a member of the 2012 The Old Schoolhouse Magazine Homeschool Crew.