We were able to review A Thomas Jefferson Education, an amazing and comprehensive resource!
A Thomas Jefferson Education
wants you, the parent, to experience the joy of helping each student discover, develop and polish his/her genius. This is the essence and very definition of great education.
A Thomas Jefferson Education encourages parents to apply the 7 keys of Teaching:
Classics, Not Textbooks
Mentors, Not Professors
Inspire, Not Require
Structure Time, Not Content
Simplicity, Not Complexity
Quality, Not Conformity
You, Not Them
to help you educate your children to their fullest potential. To read more about the 7 Keys to Great Teaching,
click here.
Getting to know the ins and out of this resource honestly blew me away. I was amazed at what was offered. The website not only gave me tons of background on the founders but also what I needed to do to get started and work my way around the site.

This Week In History
, the Thomas Jefferson Education's subscription program (one of my favorite features!), delivers new lessons to your email inbox each week. Each week full of pictures, links and videos to help you educate your child to their full potential. The program costs $9.99 a month and delivers the following benefits to you the homeschooling parent:
relieves fear, stress and burnout
energizes your kid-school
fills in the gaps
cultivates cultural literacy
facilitates state or provincial compliance
correlates resources for co-ops, classrooms and family learning
harnesses the power of technology in a classical leadership education
harmonizes with Unschooling, Charlotte Mason, Montessori, Trivium/Quadrivium, IEW, eclectic, etc.
delivers new ideas and areas of learning to you and your child
instigates discussions and projects that expand wisdom and understanding
connects the subject areas–from music to math, from geography to world religions, from hobbies to science projects, etc.
motivates you and your students to greater excellence
This Week In History was one of my favorite features, by far! The two words that come to mind are comprehensive and FUN! As an example of this week in history (August 9-15, 2012), the construction of the Leaning Tower of Pisa began in the year 1173. The site gave me pictures, background information, resource links to learn more about the Tower, activity ideas and suggestions for writing and discussion. All of the work was done for me and left my family with FUN and time to explore! More dates/facts were given for this week, each one complete with pictures, background information and lists of resources.
The cost of the program may seem a bit steep but from what we've used during this review period, it is WORTH EVERY PENNY! I am pleased to say we will be incorporating this resource into our school year this year. Thank you
Thomas Jefferson Education
for helping me to make learning fun in our homeschool!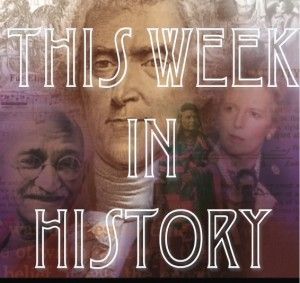 To view a sample week
click here.
To see what my fellow Crew Mates had to say about
Thomas Jefferson Education
, visit the
Homeschool Crew Blog
to read more.
**Disclosure: My review and opinion written in this post is entirely my own. This product was provided to me for free in exchange for my review as a member of the 2011-2012 The Old Schoolhouse Magazine Homeschool Crew.