This review was something I was really looking forward to! I've needed/wanted an internet safety program since the beginning of the school year since my kiddos have been spending more time on the internet.
Action Alert is a company that provides internet safety in many forms, they make the internet safer for all of us and tackle many internet dangers. Their downloadable software offers 8 internet safety tools.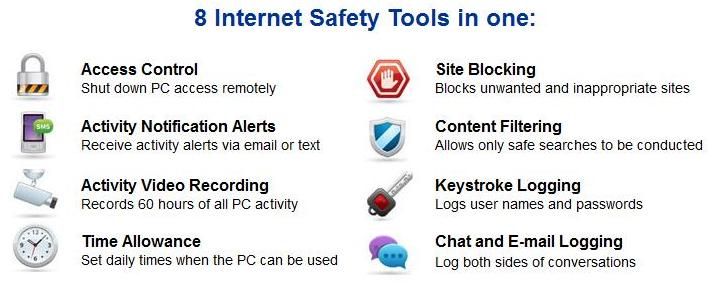 One of my favorite features is the ability to get "alerts" to your computer or cell phone via email that lets you know someone is trying to access a questionable site. You can then choose to disable to computer right from there.
Action Alert comes "preloaded" with websites known to host damaging spyware or other unwanted content. You can add others that you don't allow in your house also. You can even just choose to use just the allowed sites only mode, where you choose the only sites they can visit. There is also a safe search option which filters the search results to family friendly.
The Activity Video Recording, Keystroke Logging & Chat and Email Logging feature records screen shots every couple of seconds, so you can see exactly what your family is doing on the computer online and off.
The Time Allowance feature sets time limits or daily times when the computer can be used.
Action Alert has been featured on television and won awards. They are the only internet safety solution endorsed by The Child Safety Network.
The Free Version
Offers everything you need to set up a kid safe computer in seconds.
The Maximum Protection Version ($29.99)
fully customizable

offers multiple user protection

full social network monitoring.
To see what my fellow Crew Mates had to say about Action Alert, visit the Homeschool Crew Blog to read more.

**Disclosure: My review and opinion written in this post is entirely my own. This product was provided to me for free in exchange for my review as a member of the 2011-2012 The Old Schoolhouse Magazine Homeschool Crew.