This game is a blast! Our entire family (all 7 of us) had such a good time playing this...there was giggle-after giggle-after giggle-after giggle! Even the 3 year old got in on the fun, she kept stealing the Meeples. What's a Meeple, you say? I'll tell ya. Better yet I'll show ya...see that cute little guy with the shades below? Yep, you guessed it, that's a Meeple! Isn't he cute? Ok, so he doesn't look exactly like that in the game but he resembles the human-shaped-wooden-playing-pieces. Did you know that Meeples have been a hallmark in European style strategy games for years? This is the first time they have made an appearance in a party game. Pretty clever if you ask me.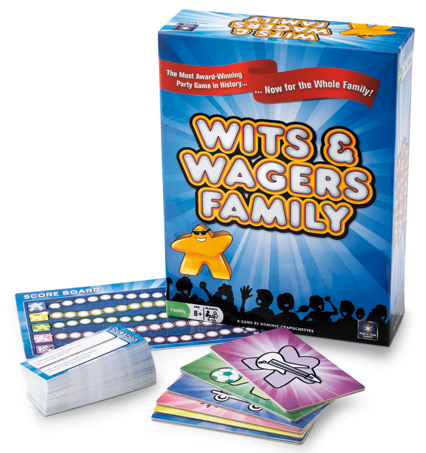 Anyway, back to
Wits & Wagers Family
. First and foremost, this is a game with family-friendly questions. No censorship needed. The game is easy to play with three or more people, ages 8 and up. Our 6 year old was able to participate with a little help/teamwork and like I mentioned before- the 3 year old was more than involved. :)
To play, everyone writes down a "best guess" answer to one of the 300 trivia questions. The guesses are displayed and everyone chooses the guess he thinks is correct or closest to the correct answer. Points are awarded both for writing the winning guess and for choosing the winning guess from among the other guesses.
The Meeples are used to indicate one's choice of guesses (or for the 3 year old to swipe and run away).
The game moves right along and you're not there playing all night...nor did the kiddos get bored! Yay!
Available both
online
and from a variety of
national retailers
, the game comes with a deck of question cards, a score board, five answer boards, a set of dry erase markers, and five pairs of Meeples. Prices may vary according to retailer but online you can find it for $15.23 plus shipping. And check this out: "Free Parts Replacement - Don't let a lost or broken component stop you from playing. If any of our game component(s) should fail (or even be lost) within the first year of ownership, we will deliver an identical or comparable replacement to your door free of charge! Requesting replacement parts is a breeze... simply e-mail us the requested part(s) along with your mailing address. We'll send the parts out within two weeks." I need to keep that in my mental-filing-cabinet...especially if the 3 year old gets crafty and doesn't come back with the Meeples!
To see what my fellow Crew Mates had to say about
Wits & Wagers Family
, visit the
TOS Homeschool Crew Blog
to read more.
**Disclosure: My review and opinion written in this post is entirely my own. This product was provided to me for free in exchange for my review as a member of the 2011-2012 The Old Schoolhouse Magazine Homeschool Crew.