This book was such a gift! It was truly my privledge to review
Journeys of Faithfulness
by Sarah Clarkson. Through a series of stories about biblical women such as Mary, Ruth, and Esther, the author challenges young women to explore and deepen their relationship with Christ. The 232 pages of the paperback include devotionals and journaling spots.
Each story gives a historical fiction account of one of these women, using the details we know from the Biblical story and adding the author's insight into what the characters could have felt and how they may have been affected by the events. The book may be used as a devotional guide for adolescent women and their mothers, it is recommended for ages 12 and up.
My 12 year old daughter already enjoyed the stories of Ruth and Esther so she was delighted to have a look at this book. She was even more delighted when I told her we could go through it together. We really enjoyed reading about these amazing women, but my favorite part was ultimately our conversations afterward. I thank Sarah Clarkson for writing such an amazing tool that my daughter and I could use together to strengthen our own relationships in Christ as well as our mother/daughter relationship. :)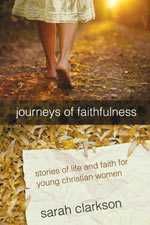 Journeys of Faithfulness
by Sarah Clarkson may be purchased directly from
Apologia's website
. The paperback version is $13.00.If you'd like to see a sample of this sweet, endearing book
check here
. The
Table of Contents
lets you in on the contents of the entire book.
**Disclosure: My review and opinion written in this post is entirely my own. This product was provided to me for free in exchange for my review as a member of the 2012 The Old Schoolhouse Magazine Homeschool Crew.