Samson's Classroom
is an online educational tool, offering three products: Sight Words with Samson, Spelling with Samson, and Reading with Samson. I was very excited to work with this review as my second grader found learning in this environment SO fun!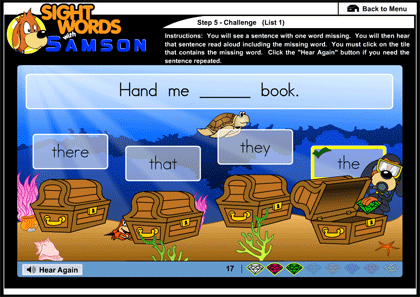 We began with using
Sight Words with Samson
– this area was created for beginning readers by helping them to master 224 of the most commonly used words in our English language. This helps build a strong foundation for new readers to encourage them to be successful in reading. It uses a 5 step process to help each student learn these widely used words. During the process they will see and hear the word a myriad of times as well as seeing the letters needed to create each word they are learning. Even though I don't consider my second grader a "beginning reader," she still benefited from the practice of sight words in this section!
The games my daughter played asked her to complete a sentence, spell a word, identify the word, or take a short quiz. There is a scoreboard which helps both the student and parent keep track of where they are and what their result was. There is also a portion in the resource center that allows the teacher to print out additional worksheets and even flash cards. And you can print a certificate out once your student has completed each level, my daughter is saving these! She's so proud!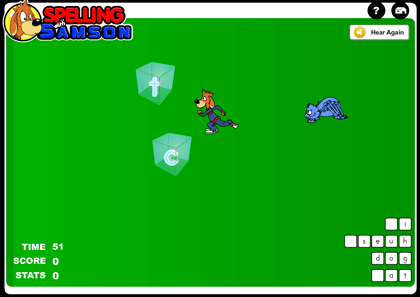 My daughter was very unsure of spelling, sometimes she puts all of her energy into reading a word! Reversing the process to spell it was difficult for her at first. Then, we moved on to the Spelling with Samson section.
Spelling with Samson
is a comprehensive set of games that drills spelling words in a variety of mini games. More than 7,000 words will all be used in games which are designed to grab the attention of your children to play them over and over again all the while building their spelling skill. You can customize the lists to match what you are learning in your curriculum OR you can choose to use one of the lists already created. Spelling with Samson is similar to Sight Words with Samson where it also uses a multi-step process to build confidence in your student's spelling ability through a variety of games. My daughter was encouraged to try spelling and she wanted to play in this section more and more. What a fun way for a 7 year old to get spelling practice!
Reading with Samson
is a combination of reading comprehension and logical analysis where the student will learn to draw conclusions from what they have read to figure out the answers to the questions presented to them. The questions asked cover cause and effect, discovering the main idea, context, and sequencing to name a few. This program also uses an instant feedback system. If a student answers a question incorrectly the pertinent information of the passage that they read will be highlighted and the child is allowed a second chance at answering the question correctly. This section was a little more difficult for my second grader but she does try a little each day. I think we'll be able to work our way up to this area more and more as we progress through the school year.
If you decide to take a look at
Samson's Classroom
for your homeschool, there is a variety of
pricing options
for home use ($30 per year), as a family (4 users $50 per year), as a classroom (30 users $80 per year) and even more. You can try a
demo of the program
and make sure you check out this short but very thorough
video demo
.
**Disclosure: My review and opinion written in this post is entirely my own. This product was provided to me for free in exchange for my review as a member of the 2012 The Old Schoolhouse Magazine Homeschool Crew.