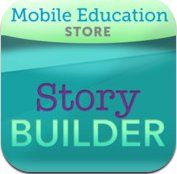 We were able to review a really cool app from Mobile Education called Story Builder. I downloaded the app on my iPhone and the kiddos had fun getting to know the ins and outs and playing with different aspects of building their own story.
StoryBuilder is an app that is specifically for the iPhone or 4th generation iTouch ( the ones with a camera). It is designed to help children accomplish the following goals: 1) Improve paragraph formation; 2) Improve integration of ideas; and 3) Improve higher level abstractions by inference. Through the use of extensive audio clips it promotes improved auditory processing for special needs children with autism spectrum disorders or sensory processing disorders.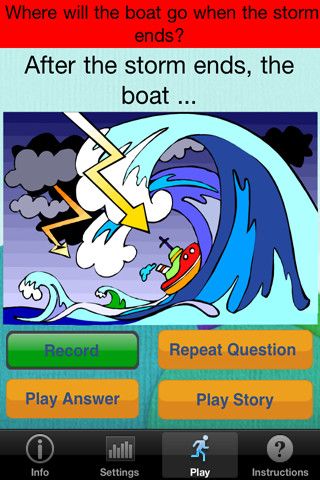 There were different settings available (levels of difficulty) for all the "reading" kiddos in our home (ages 6-12). In the easiest level, the question is read for you and they you press the green "record" button to record your answer. The only thing we didn't catch right away was that we needed to answer the question in a full sentence. After recording your answer, you can play the answer back to see if you are satisfied with the way it recorded.
My kiddos had a really fun time with this, some times they laughed and giggled through their answer. The playbacks were really funny to listen to. At the end of all the questions, you hit the "play story" button and all of your answers are read back to you in the order in which you recorded. You then have a "story" of all your answers. The kids loved this app!
As the level of difficulty increases, our older kiddos needed to look at the picture and decide what they thought would happen next. They then recorded what they thought might happen next as a result of what they saw in the picture. This level was great for the imagination!
We also have a child with a sensory processing disorder so this app is great for him to practice on. Not to mention all the kids get a turn "playing" on my phone (which rarely ever happens)! They told me they want more educational apps on my phone so they get more time to "play" on Mom's phone. Pretty smart kiddos if you ask me! LOL
Both of these apps are available for purchase in the Apple App store. Rainbow Sentences is available for $7.99, while StoryBuilder sells for $5.99.
Read what other crew members are saying about Mobile Education Tools on the TOS Review Blog.
**Disclosure: My review and opinion written in this post is entirely my own. This product was provided to me for free in exchange for my review as a member of the 2011-2012 The Old Schoolhouse Magazine Homeschool Crew.