I'd heard of Hewitt Homeschooling before but have never used any of their curriculum. I was very excited to have been chosen for this review so I could check it out and see what all the "buzz" was about!
Since we're now in the middle school age range, we are finally able to use the Hewitt Homeschool curriculum (there are programs with elementary grades coming soon). We were able to review the 7th grade curriculum and it came with a student guide, a student workbook, and a teacher guide.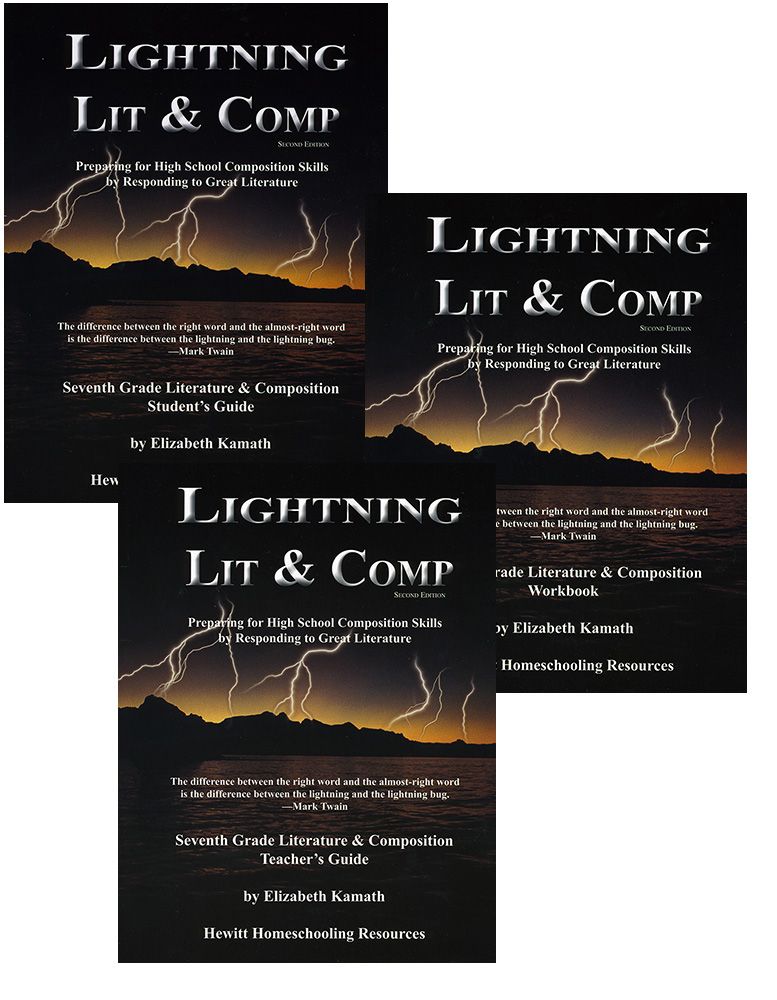 From the Hewitt Homeschooling
website
: "Hewitt's Lightning Lit guides use full-length novels, autobiographies, plays, essays, short stories, and poems to teach deep reading and composition skills. Unlike some literature programs that take a scatter-shot approach (where none of the literature seems connected) or that try to include too much into one book, Lightning Literature guides focus on a few classics in depth, in a systematic manner."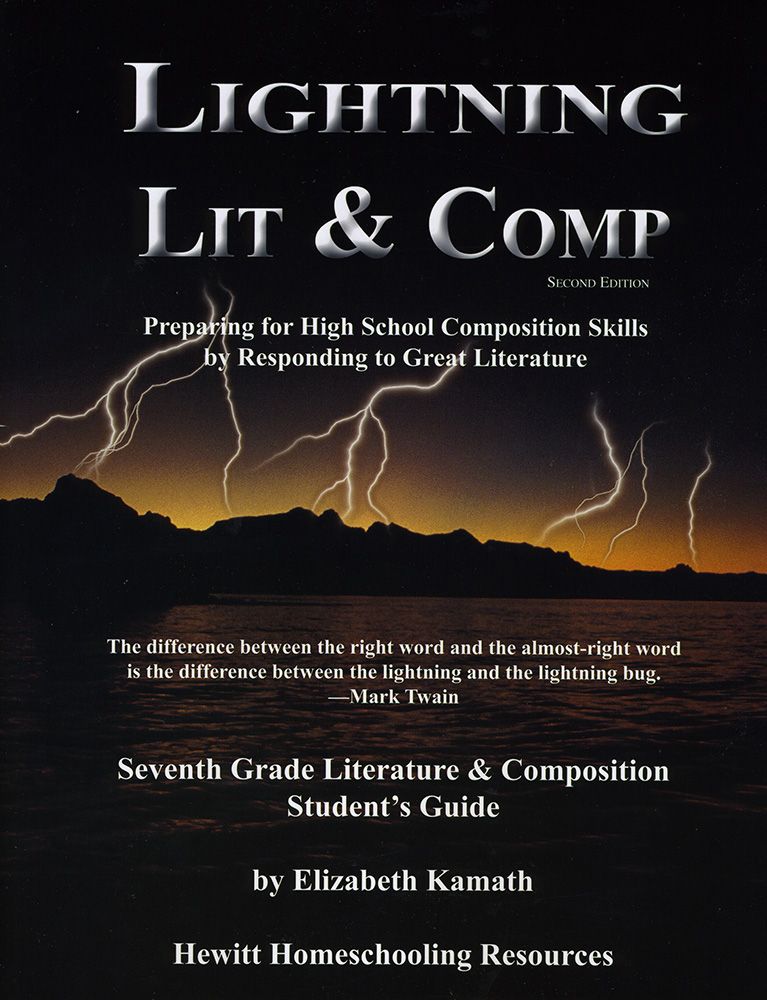 The junior high levels (7th and 8th grade) are year long courses. The Student Guide includes biographies of the authors, vocabulary, comprehension questions, lessons on the readings, additional lessons on composition, and writing exercises. The Student Workbook is consumable. The Teacher Guide includes a teaching schedule, answers to comprehension questions, answers to the workbook pages, extra teaching help for the lessons, help in choosing appropriate writing exercises, and discussion questions.
We used this with my daughter who is just going into the 7th grade. The student guide (and workbook) was straight forward and easy for her to use. For example, chapter 4 was my one of her favorite lessons (Alice's Adventures in Wonderland by Lewis Carrol). She began by reading the
Introduction
in the student guide. The next section,
While You Read
, points out things to look for while reading the story. There is a
Vocabulary List
listed by chapter so my daughter was able to refer back to that list to check for words she didn't understand. An example of that was in chapter five the word "languid" was used. She was able to refer to the vocabulary list and see the word languid means dull. Next in the student guide is
Comprehension Questions.
These are also listed by chapter. I had my daughter answer them as she finished each chapter and we also discussed her answers and why how she came up with them.
To further comprehension, the section
The Meeting Of Two Things
talks about bringing together two ideas that aren't normally together. For example, in Lewis Caroll's time, many men used pocket watches. But, in the story it was a rabbit that ran around with a pocket watch to be sure he was on time. Lewis Carroll invented a funny new character by having a rabbit carry a pocket watch and rush around in a hurry like a man would. This section brings two unlikely ideas together and shows that creativity can show us something new and also have a point. The
What-If
section brings together a simple creative technique using questions that start with "What if?" Assisting my daughter to use this section helped to build her creativity muscles by helping her to look at the world around her and combine some things to make new things while tweaking others until they became something new.
At the end of this lesson were some
Writing Exercises.
The instructions gave my daughter a section of the story to read and then asked her to "imagine" a certain scenario and write about it. The
Teacher's Guide
gives the answers when specific questions were asked in the student workbook as well as giving direction for some of the creative writing exercises. We found all of the material very user friendly and thorough. We were so pleased that we will be using this as our literature curriculum in the fall for the entire year.
Thank you Hewitt Homeschooling!
To see what my fellow Crew Mates had to say about Hewitt Homeschooling, visit the
Homeschool Crew Blog
to read more.
**Disclosure: My review and opinion written in this post is entirely my own. This product was provided to me for free in exchange for my review as a member of the 2011-2012 The Old Schoolhouse Magazine Homeschool Crew.