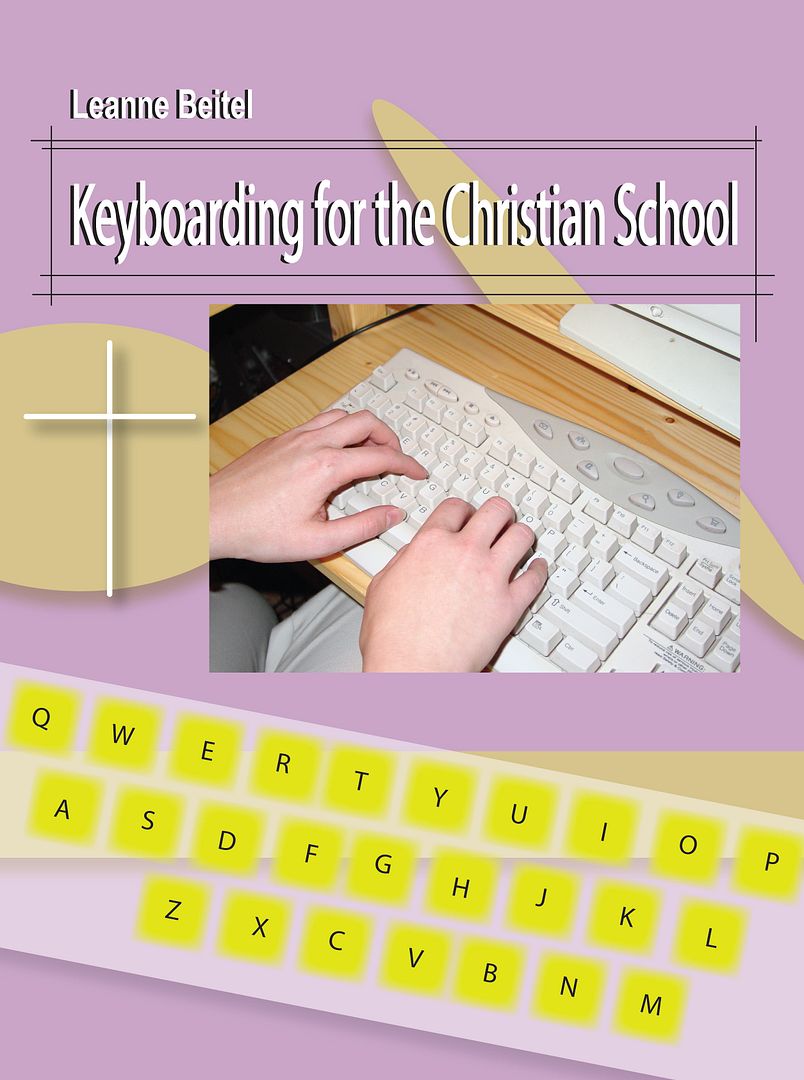 Keyboarding for the Christian School
is a complete typing curriculum that will help you teach your children how to type. We found this e-book to be an amazing tool! I was able let my 12 year-old go through this book and she was able to follow the steps on her own. I read through the e-book first and was very thankful for the very basics it discussed before beginning with the typing lessons. See below for an excerpt from the book showing you what I mean by "the very basics."
"In order to reach all of the keys easily and to type efficiently, there are certain techniques to use.
1. Sit up straight and lean in at the waist.
2. Keep feet flat on the floor (with one slightly in front of the other for balance).
3. Body is one hand-span (or length) from the keyboard.
4. The J key on the keyboard is opposite of your bellybutton.
5. Hands are on the homerow (to be introduced in the first lesson)
6. Curve fingers.
7. Elbows are naturally at your side.
8. Wrists are level (not touching the table or the keyboard).
9. Eyes are looking at the copy.
10.Keyboard is parallel to the table.
11.The text or copy is placed on the right-hand side.
12.Use quick, snappy strokes in a rhythmic pace"
The letters and numbers were just the beginning lessons, there was SO much more to learn in the book. I really liked that there was scripture used throughout the book and in the examples. Other things taught in this curriculum was how to write MLA and APA reports, cite works, make a bibliography, create personal and business letters, marks used in proofreading, timed exercises and more! While my 12 year old isn't quite to the MLA and APA report writing, she can use this as a reference for letters and timed exercises now. I thought the information presented was exceptional and this e-book will be a valuable resource for our homeschool for years to come!
We used the book in the e-format as we went along for the review. BUT, I will be printing it off and putting it in a binder for future reference and for our other students to use.
Keyboarding for the Christian School,
costs $15.95 and was created to be used by students in the 6th through the 12th grades. You can view sample lessons
HERE.
To see what my fellow Crew Mates had to say about Keyboarding for the Christian School, visit the
Homeschool Crew Blog
to read more.
**Disclosure: My review and opinion written in this post is entirely my own. This product was provided to me for free in exchange for my review as a member of the 2011-2012 The Old Schoolhouse Magazine Homeschool Crew.