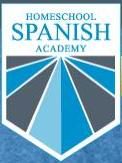 I was so excited to get started on this review! I personally love the Spanish language and want to pass that love down to my children. When I was chosen to review the Middle School age group, I knew my first born was a perfect fit to help me out.
Homeschool Spanish Academy (HSA) provides immersive, interactive 1-on-1 interaction with native Spanish language tutors via Skype video. All that is needed is a high-speed internet connection, web cam, and a Skype compatible computer headset with microphone.
My daughter is very familiar with Skype so she was ready to roll when it came time for her first lesson. Before hand I had a brief Skype meeting with tech support to determine my internet speed and how that would affect the quality of our Skype meeting. Tech support was very easy to work with and we were ready to go in minutes!
HSA's website was very user friendly in assisting me to make our scheduled appointments. I could choose from any day during the week and virtually any time. It took me a moment to realize there was a time zone difference but I quickly adjusted our needs accordingly.
My daughter's first lesson went smoothly and the teacher was very sweet and made my daughter very comfortable and eased her nervousness. We learned the HSA teachers are in Guatemala! Before every scheduled lesson, the teacher would email me the worksheets they would be going over that day. I simply printed them out for my daughter so she could look them over and have them on hand during the lesson. There was also homework assigned after each lesson that went over the things they learned that day.
It was so great to hear my daughter learning (and speaking!) Spanish after just a few lessons. She really enjoyed the enthusiasm of the teachers and the set-up of using Skype as the classroom. After her lessons, the other children asked questions about Guatemala so we had a little Geography lesson as well. The joys of homeschooling! :)
Homeschool Spanish Academy offers several levels of instruction, from early learning (age 5 and up) to adult. The Early Learning sessions are 25 minutes long, while the Middle School, High School, and Adult sessions are 50 minutes. Prices range from $59.99 (7 week Early Learner course) to $314.99 for a full semester of 30 lessons in 15 weeks. You can visit
HSA's website
to receive a free trial and see if their program would be a good fit for your homeschool.
We were so pleased with this company (and my daughter has enjoyed her lessons so much) that we plan to continue these lessons throughout the school year as her foreign language instruction.
To see what my fellow Crew Mates had to say about Homeschool Spanish Academy, visit the Homeschool Crew Blog to read more.
**Disclosure: My review and opinion written in this post is entirely my own. This product was provided to me for free in exchange for my review as a member of the 2011-2012 The Old Schoolhouse Magazine Homeschool Crew.