Keyboard Town PALS
is a typing program that teaches young children to type. This program doesn't used 'timed' tests and approaches learning to type as a game. When children first begin the program, they are introduced to Sunny:
Sunny is a helpful friend that guides the child through Keyboard Town. Older children might find Sunny's character to be fairly 'elementary' but the content of the lessons is solid and very easy to understand. Sunny explains the middle row of keys to be named as "Hometown," the upper keys to be named "Uptown," and the lower keys to be named "Downtown." There is a "helper hand" that shows the child where to place their fingers on the keys.

These are the Keyboard Town PALS (this is also an acronym that stands for the Purposeful Associative Learning System) PALS is the way in which keyboard skills are taught in this program. The PALS guide the child through the lesson and explain how things work in the "Downtown, Hometown & Uptown" keyboard rows. I had our 6, 9 and 11 year old children try out this program. The younger two found the finger placement a little difficult to maintain on the keys- the 9 year old felt he could improve his 'finger coordination' with a little more practice. Both younger children understood the lesson easily. Our 11 year old went through the lesson as well, she found the presentation to be to elementary for her but she grasped the information easily and proceeded through the lesson without any issues at all.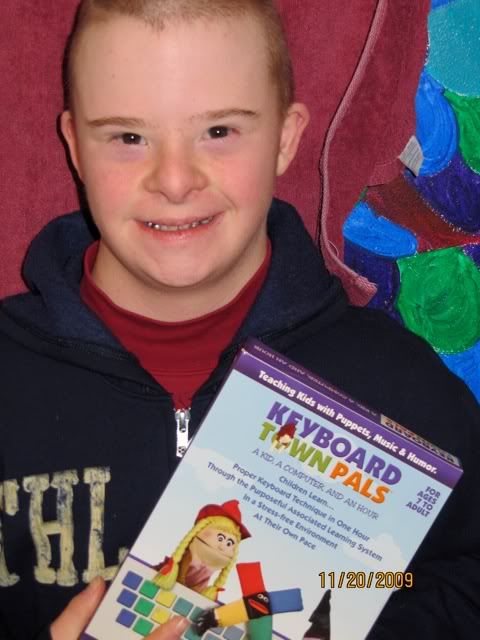 Parents can purchase the program in either a CD Rom or Web-based package for $30.00 (currently on
sale
), with English, Spanish, and French versions available. The Keyboard Town PALS program centers around children who can recognize all the letters of the alphabet. However, the program "Little Hands Can Type" is also available for purchase for younger children.
To see what my fellow Crew Mates had to say about Keyboard town Pals, visit the
Homeschool Crew Blog
to read more.
**Disclosure: My review and opinion written in this post is entirely my own. This product was provided to me for free in exchange for my review as a member of the 2011-2012 The Old Schoolhouse Magazine Homeschool Crew.