Make Every Moment Count
What a fun product/review! This timer is more helpful to our day than I ever imagined. I wasn't sure what to expect when I first opened the package but now that we've been using the Time Timer, it has proven itself to be invaluable!
The
Time Timer
has been around for awhile. It was
invented over twenty years ago by Jan Rogers
in response to her four-year-old daughter's need to see the passage of time in order to understand it. The Time Timer is valuable even today in helping a new generation of students, classroom teachers, special educators, and homeschoolers keep track of their time.
Time Timer
is different from a regular kitchen timer or wall clock because of its unique construction, you can actually
see the time passing as the red disk decreases minute by minute
. And there's NO TICKING! This is huge for the kiddos in our home because there's no distraction- just a visual account of the minutes passing by.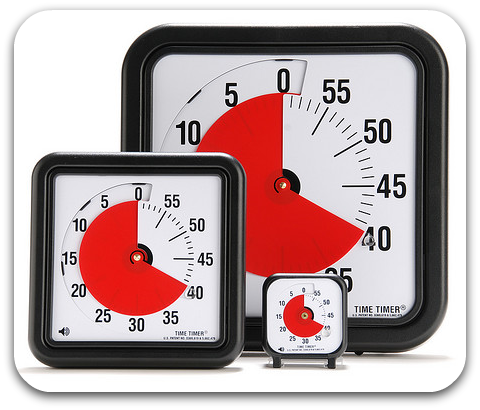 As you can see above,
Time Timer
comes in 3 sizes: 3", 8" and 12". There are so many uses for this timer, some of them include:
setting time limits for work or practice sessions

keeping track of time during testing

keeping track of time during therapy sessions

helping students learn to manage their time wisely

providing a visual aid for learning about the passage of time

helping children monitor their time spent during chores, homework, or play activities

and many more practical uses, from timing exercise periods to timing computer use


Almost any age can use this timer, it is very easy to operate. I like that our 6 year old can understand and see as time passes during her work time. I appreciate that she is grasping the concept of time as she sees the red disk disappear. What an valuable tool!




Another super awesome benefit to the Time Timer is that it is also available as a watch, an

app for the iPod and iPhone,

and there is a software program for your computer.

Time Timers

are $30.00 for a 3" model, $35.00 for the 8" model, and $40.00 for the 12" model (perfect for classroom and group use). The software is $24.00, while the watch is available for $40.00.

Orders placed in the United States and those which total over $50 receive free shipping. Check out the Time Timer website

and see if this handy tool might help to

manage your family's time more effectively

…Learning to

make every moment count

!

To see what my fellow Crew Mates had to say about Time Timer, visit the

Homeschool Crew Blog

to read more.

**Disclosure: My review and opinion written in this post is entirely my own. This product was provided to me for free in exchange for my review as a member of the 2011-2012 The Old Schoolhouse Magazine Homeschool Crew.