Ok, so I've really enjoyed these reviews so far. They've been fun, helpful, and most have been truly captivating. But this one stands alone...not only for the reasons mentioned above but because it really pulled at my heartstrings. Wow. What an amazing book. Simple really...but SO powerful. I'm so glad for this book- I received the e-book to review but I'll be ordering it and keeping it out in plain sight F.O.R.E.V.E.R! I'm trying to figure out when to read this to our children throughout the year(s)...maybe for each birthday? This is gold right here- simply gold. Oh how their little, tender hearts can be prepared for marriage (God's way, not society's way!). I'm virtually speechless. **Notice I said virtually...LOL.**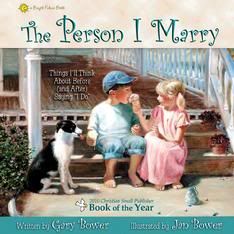 On to the review! Husband and Wife team, Gary and Jan Bower produced
The Person I Marry
. It is a hardcover 32-page book for all ages.The illustrations are just lovely. The front cover is indicative of the types of pics you'll see throughout the book.
The Person I Marry
coins the phrase "Long before thinking of diamonds and glitter, this book has some things you'll want to consider." It is written in a sing-song-poetic type format. Young people are reminded just what type of person one should marry – one with a beautiful inside.
The message in the book shares qualities which create strong marriages in a way all ages can understand.
The book tells the reader,
"The vows I'll say I mean to keep,So I'll look hard before I leap."
I really enjoyed the back page of the book that has a checklist-type area entitled "Things I'll look for in the person I'll marry."
Gary and Jan's other books include
Tessa's Treasures
in the four-book "Thinking of Others' series,
The Jingle in My Pocket
in the five-book "Bright Futures" series,
Mommy Love
and
Daddy Love
board books,
Over Land and Sea
about international adoption, and a
Michigan Kid
series. Illustrations and descriptions of many books can be found at the
Bower Books website
. Posters with an illustration, character trait, and short poem can also be purchased from Bower Books.
The video below will show you more of this precious, precious book:
The Person I Marry
from
Bower Books
on
Vimeo
.
The hardback version of this book retails for $11.99, go
here
to order. To see what my fellow Crew Mates had to say about
The Person I Marry
by Bower Books, visit the
Homeschool Crew Blog
to read more.
**Disclosure: My review and opinion written in this post is entirely my own. This product was provided to me for free in exchange for my review as a member of the 2011-2012 The Old Schoolhouse Magazine Homeschool Crew.