I can't tell you how much I LOVED doing this review- I simply adore this book.
Before Five in a Row
by Jane Claire Lambert
is a book of creative ideas designed to help you gently, consistently prepare your children for the life-long adventure of learning. For preschool age children (ages 2-4), this book is WAY more than a 'school curriculum'!
This book offers a plan where the parent and child reads the same book aloud for five days in a row. After each reading, they discuss various aspects of the story or complete the suggested activities. The original Five in a Row materials were geared towards early elementary students, but I was lucky to review the book that they've developed for younger children.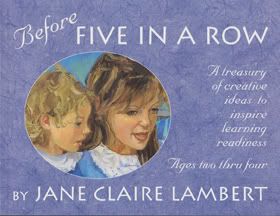 The book is divided into two parts. The first section contains hundreds of simple ideas and activities developed around 24 of the finest books EVER written for young children. These are truly the cutest, sweetest books you'll ever find-
Jesse Bear, What Will You Wear?, The Runaway Bunny, The Carrot Seed, Corduroy, Caps for Sale, The ABC Bunny, The Snowy Day, Katy-No-Pocket and Blueberries For Sal.
We were able to find just about all of the books we needed at our local library. We loved some of these so much we decided to add them to our personal library! Each unit provides creative ideas and enjoyable activities designed to build excitement and a love of learning with your child while building the super important skills for learning-readiness. Our 3 year old loved doing these activities and having special reading time with Mom- she tells me she
loves
doing school. YAY! :)
Part two of
Before Five in a Row
is an awesome, comprehensive resource filled with specific ideas designed to help prepare children for learning through simple, everyday activities. There are ideas for bathtime, bedtime, in the kitchen, at the grocery store and MANY more. The info and inspiration given in this book helps the parent make the most of these precious years and pave the way for 'real learning' down the road.
While we used this book of ideas in our homeschool, it would be appropriate for any preschooler. The parent-child bonding this book facilitates is priceless. Nothing is sweeter than your little one snuggled up against you while you read a book...absolutely priceless! :)
Although there are no sample pages available for Before Five in a Row, there is a special explanation of the book available on the Five in a Row website here.

Before Five in a Row

costs $35 can be purchased from Rainbow Resource.
To see what my fellow Crew Mates had to say about
Before Five in a Row
, visit the
TOS Homeschool Crew Blog
to read more.
**Disclosure: My review and opinion written in this post is entirely my own. This product was provided to me for free in exchange for my review as a member of the 2011-2012 The Old Schoolhouse Magazine Homeschool Crew.